08 Sep

Alumni Athletic Hall Of Honor Inductions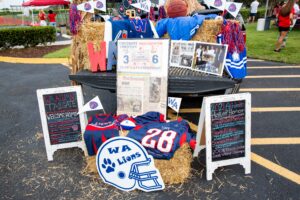 The Westminster Academy Athletic Hall of Honor was established in 2014 to honor the men and women who have made outstanding contributions to the WA Athletic program over the last five decades. The mighty Lions have been blessed by a distinguished athletic legacy, and we want to recognize and honor our exceptional alumni, coaches, and contributors who were instrumental in the success of our athletic program. The alumni selection committee includes WA Alumni Board members, teachers, and coaches.
Congratulations to our 2022 inductees:
Coach: Coach Russ Coningsby—2010-2022 Tennis
Female Athlete: Courtney Meredith '14 Peccoralo—Tennis
Male Athlete: Dwight Rogers IV '01—Golf
Alumni, be sure to join us for the Athletic Hall of Honor Ceremony, which will take place at Homecoming. The Alumni Tailgate begins at 5:30 p.m. with dinner catered by WA alumni family-owned Padrino's Cuban Cuisine. All alumni families receive complimentary dinner and admission to the homecoming game. Wear your senior jersey and sneakers for ultimate frisbee against the faculty immediately following the game.