04 May

Help Us Prepare For Our 50th Anniversary!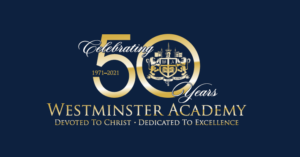 Save the date for our 50th Anniversary Celebration Weekend on October 8-10, to join us in commemorating God's faithfulness over the last five decades. As we prepare for this momentous occasion, please visit wa.edu/alumni to update your contact information, share a Portrait of a Graduate Story, or a favorite personal memory about a milestone moment that occurred at WA.
Alumni, please email us at alumni@wa.edu if you are willing to serve as a Class Ambassador to engage fellow alumni to join us for the festivities.
Westminster Academy's 50th Anniversary Celebration Weekend
October 8-10, 2021
Homecoming – Friday 5:30 p.m.
Tailgate | Athletic Hall of Honor Inductions
West Campus Athletic Complex
Golden Gala – Saturday 7:00 p.m.
Marriott Harbor Beach Resort and Spa
WA Sunday 11:00 a.m.
Coral Ridge Presbyterian Church
Alumni Farewell Brunch following the service
Special Thanks to Our Steering Committee:
Wanda Alday—Alumni Parent '17, '18, and Current Parent
Julie Carlson '80—Alumna
Jennifer Whiting '92 Casey—Alumna, Alumni Parent, and Current Parent
Cindy Perkins '79 Coningsby—Alumna and Alumni Parent
Sam Freas '94—Alumnus, Current Parent, and Current Aquatics Program Director
Laura Smeryage '96 Harms—Alumna, Alumni Parent, and Current Parent
Christy LaCaria—Current Parent
Vicki McKay—Alumni Parent '98, '00, '03, and Retired Teacher
Carol Neal—Retired Teacher
Philip Piedt '07—School Board Member and Alumnus
Elizabeth Taylor—Alumni Parent '12, '15, and Current Teacher
Paul Wackes '79—Alumnus and Alumni Parent
Be sure to follow us on social media for the latest news and updates and share the Facebook event.