16 Nov

Compassionate Contributors In The Community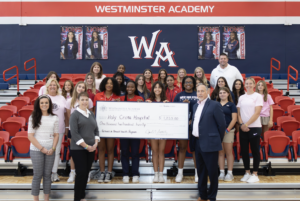 One of our Portrait of a Graduate traits is "compassionate contributor." Our goal is that students would recognize all they have been given is a gift from God and for His glory alone, respond with a grateful attitude, and be generous in action—seeking to help those who cannot help themselves. Our students have demonstrated this in multiple ways over the last month.
The Lady Lions Volleyball program hosted its annual Pink Night in October to raise awareness for breast cancer. The day kicked off with students, faculty, and staff members being able to wear pink for the day for a minimum donation of $2. The evening included a bake sale and a donation table, which allowed families and fans to support the cause. Overall, $1,220 was raised to provide ten mammogram screenings for underserved patients in Broward County through the Holy Cross Hospital Partners in Breast Health program.
PREP students and the Rotary Interact Club are partnering with CRPC for a Thanksgiving Outreach, "Feed the Block," by hosting a collection drive for Thanksgiving meal items. Students and families from our school community will volunteer by distributing Thanksgiving meals to 300 families in the Avondale community.
Grades 7–8 Student Council promoted a 5K Run for the American Cancer Society (Making Strides) to support the fight against breast cancer. They raised $5,165, and forty people from our school community participated in the 5K.
This month, the Lower School & PREP Student Council met to write cards of thanks for our security officers, FLPD officers, daytime janitors, facilities, and nurses. The cards expressed their gratitude for their hard work and dedication. Additionally, they assembled 40 Love Bags of snacks to show their appreciation. Our student council members passed out the love bags to our outstanding support staff. The goal was to uplift and recognize the valuable contributions of the support staff and provide our StuCo members with ways to serve others.