14 Sep

Guide To Giving & Getting Involved

Posted at 2:12 PM on September 14, 2023,

in

School News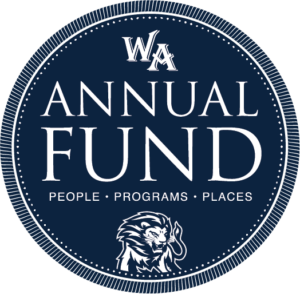 We are excited to share that for the fourth consecutive year, we are celebrating 100% School Board, faculty, and staff participation in the Annual Fund! We are so grateful for each member of our team leading the way, which is evidence of their enthusiasm for our mission!
Please review our Guide to Giving and Getting Involved, which provides an overview of various ways you may support our school. The Annual Fund supports our school's operations and provides the margin of excellence that creates the WA experience. Our 2023-24 Annual Fund goal is $725,000. Corporate and family sponsorships for athletics and the fine arts are also outlined, along with the opportunity for current and alumni families to list their businesses and services in the Lions Parent Association Business Directory.
Our Annual Fund Drive will be held in late October. Each year, we have a challenge, and this year's goal is to add 50 new Headmaster's Council Members (a gift of $2500 or more) and 50 new Roaring Fans (a gift of $300 or more) by the 50th day of school on October 26. We encourage everyone to participate as God leads you. Parents will also receive the Guide to Giving and Getting Involved in the mail leading up to the Annual Fund Drive, but you can help us get a head start to reaching our goal by giving today! Headmaster's Council members receive free admission to home athletic events, as well as two tickets for the auction and one school play. Those who commit to a gift of $2,500 or more by September 22, will receive early access to two complimentary tickets for our high school musical, Godspell.
Your tax-deductible donation may be mailed to the school or made online at wa.edu/donate, where you may also set up a recurring gift. Please contact Sarah Hajduk, Director of Development, at 954.815.7201 or hajduks@wa.edu to further discuss opportunities for impact at WA.