16 Mar

Get Your Tickets For Peter And The Starcatcher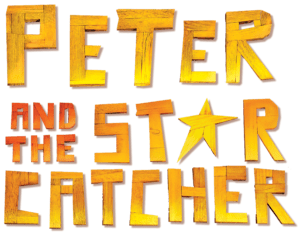 Peter and the Starcatcher is just over a week away! This production, presented by McKinnon Wright Wealth Management, will take to the stage on Friday, March 24, at 7:00 p.m. and Saturday, March 25, at 2:00 p.m. and 7:00 p.m. Tickets are on sale now.
Peter and the Starcatcher is a Tony Award-winning play based on the best-selling novel, which tells the story of how a desolate orphan boy becomes the celebrated character of Peter Pan. The story begins with Peter's first adventure aboard a ship called the Neverland, where he meets his first friend, Molly. Molly is the daughter of the famous Starcatcher, Lord Astor, and they are on a mission to save the world and protect a treasure trunk filled with magical star stuff from getting into the hands of an evil and greedy pirate, Black Stache. Unfortunately, many obstacles stand in their way as they battle thieving pirates to jungle tyrants and meet many reluctant comrades and unlikely heroes along the way.
Peter and the Starcatcher playfully illustrates this captivating tale through creative narration, movement, and the actors playing many roles of different objects and characters as they explore the themes of the depths of greed and despair as well as the bonds of friendship, duty, and love.
In addition to our Presenting Sponsors, we would like to thank our Producer's Circle sponsors, Collision Care Xpress, Primerica—Oropesa & Associates, and Director's Circle Sponsor, Primerica—Alise & Associates.
Rehearsals for Annie Jr. are well underway, so save the dates to see this remarkable story come alive on stage on April 28, 29, and 30. Little orphan Annie is taken from her orphanage in 1933's New York City and the clutches of evil Miss Hannigan to stay at billionaire Oliver Warbucks' mansion for the Christmas holidays. When Annie wins the hearts of Warbucks and his staff, they set out on a mission to find Annie's parents. Meanwhile, Miss Hannigan and others attempt to spoil the fun. You will love this classic Broadway production that will have you dreaming about "Tomorrow!" Special thanks to our presenting sponsor, Collision Care Xpress.