10 Oct

Connect With Coral Ridge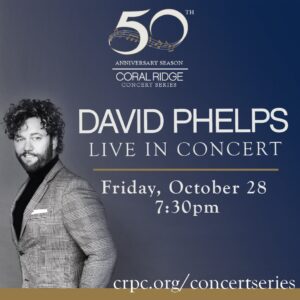 Westminster Academy appreciates the resource Coral Ridge Presbyterian Church is to our school community. Each week, the church gathers for meaningful events to educate, enlighten, and enhance spiritual lives and invites all WA parents and students to join them.
Upcoming Events
David Phelps | Live in Concert: We are excited to celebrate our 50th anniversary season of the Coral Ridge Concert Series! Our first concert is renowned tenor David Phelps, performing on October 28 at 7:30 p.m. He served as a member of the popular and prestigious Gaither Vocal Band for over 15 years and has numerous Dove Awards, Grammy Awards, and multiple platinum-selling recording projects. Click here to purchase your tickets!
Serve Day | Hurricane Ian Disaster Relief: Our Outreach team has set a volunteer date for October 22. We will be bringing a bus of volunteers for a day trip to the southwest coast. To sign up for a serve day and for all the other ways to get involved, click here!
Women's Bible Study: Join our Women's Ministry as we learn the true story of redeeming love! Our study has four meeting times, Tuesdays at 8:00 a.m. or 9:30 a.m. in the DeVos Chapel and during Sunday School at 9:30 a.m. or 11:00 a.m. For more information, visit crpc.org/women.
Men's Bible Study: Our Men's Bible Study, Sermon on the Mount with Bob Barnes, meets every Wednesday at 8:00 a.m. in the DeVos Chapel. Bob Barnes is the CEO of Sheridan House Family Ministries and a local pastor. He has an incredible gift of connecting God's Word to the practical needs of men. Click here for more information!
Community Groups: Joining a community group is one of the best ways to get plugged in at Coral Ridge. There are groups available for people in every stage of life covering various topics. Click here to sign up for a community group! Childcare is available for our Wednesday night community groups.
Generation to Generation | Capital Campaign: In October, we launched the Generation to Generation Capital Campaign. We are excited to share this culture-shaping movement and invite you to partner with us as we move forward in faith. We are pleased to report that we have reached over $12 million of our $15 million faith goal. Go to crpc.org/g2g to hear more about our campaign and how you can join the movement.