05 May

Robotics Season In Review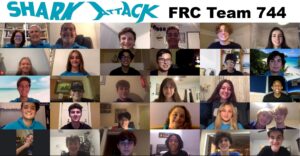 On Wednesday, April 7, our robotics team uploaded all final videos and scoring statistics for three major robot challenges. These videos and our scoring have now been certified by FIRST and a third party has compared our submission with the submissions of all competing teams from around the world to determine our world ranking in this year's competition. Unofficially, we are ranked 188th globally and we are very happy to report that we are ranked number one in the state of Florida! Within a particularly heavily contested international grouping, we have earned an official 7th place rank (in the Strontium Group). Scores are so tight in this group that we are only 0.4% out of fourth place.
On Tuesday, March 23, our robotics team presented to FIRST Robotics Competition judges online and they did a great job! On Tuesday, May 11, FIRST will host a virtual Florida Awards Ceremony during which all judged awards will be announced for FIRST Robotics Competition Teams in Florida. Next week, we will know the results of all of the judges' deliberations.
As a team, we continue to celebrate more than 20 years in FIRST Robotics Competition! We would like to congratulate the following students and mentors who made it possible for us to compete at a high level in a year of many COVID challenges: Team Lead – Clayton Early, Lily Clemens, James Cochrane, Billy Garcia, Jonathan MacClugage, Alejandro Molina, David Philips, Dean Reid, Charlie Zou, and mentors Gregg Coningsby, Lauren Cooley, Jeff Early, Scott Greven, Chad Tucker, and Kent and Cathy Stolley.
Special thanks to all of our sponsors! This year, our major industrial sponsors were: APEX Machine Company, Motorola Solutions Foundation, NASA, and Otis Elevator Company. Go Shark Attack!