08 Apr

Bid Online And Support Our School!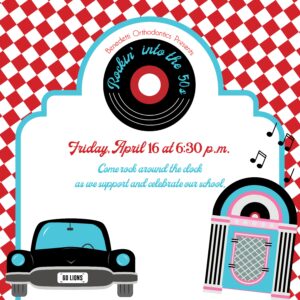 Bidding has begun for our annual auction, Rockin' into the 50s presented by Benedetti Orthodontics! Click here to create an account, set your max bids, and support our school! Our number one tip for the auction is to set Max Bids in advance of the event. Watch this 1-minute video and Thomas will tell you just how simple it is to place bids in advance from anywhere!
The event has reached in-person attendance capacity, but you can still bid to attend and be a VIP! The VIP Table Upgrade is presented by A2 Events with an exclusive menu and decor, a gift bag full of fun surprises, and Express Checkout! Bidding for the VIP table ends this Friday, April 9 at noon.
Our largest fundraiser of the year would not be possible without the generous in-kind donations of local businesses, those who solicited these businesses on behalf of WA, and our volunteers. Thanks to our generous sponsors and family underwriters, the entire cost of the event has been underwritten so that all proceeds will directly benefit students through our Annual Fund. Special thanks to our title sponsor, Benedetti Orthodontics, and additional premier sponsors All Atlantic Benefits, Foundation for Christian Living, and the D. James Kennedy Foundation. Click here to view all of our generous sponsors and please consider patronizing these businesses in the future.
Please contact Sarah Hajduk, Director of Development, at hajduks@wa.edu or 954.815.7201, if you would like to request a proxy bidder to bid on Live Items or to be placed on a waiting list, should current ticket holders be unable to attend.
Let's go Lions – let the bidding begin!
Save
Save