04 Feb

New Math Program In Lower School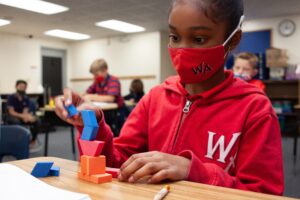 It is with great excitement that the Lower School announces the addition of a math enrichment program for grades 3–5 titled "M3 Adventure." This program utilizes the M3 Mentoring Mathematical Minds curriculum which is a National Association for Gifted Children's Curriculum Studies Award Winner. It was designed for gifted and high ability students and was developed at the University of Connecticut NEAG School of Education's Renzulli Center for Creativity. It fits well with our math program and allows for the addition of STEM and higher-level thinking activities.
This program is by invitation only for students who excel in math. The class is taught during part of the students' normal math time by Mrs. Hatch, our Director of Lower School Student Support. She has extensive experience working with gifted and talented students. This new program aligns with our Portrait of a Graduate goals as it encourages students to become critical thinkers.