16 Nov

Fine Arts Highlights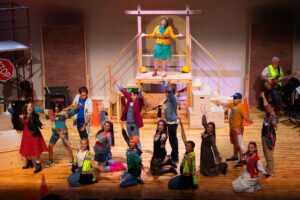 This past weekend, the cast and crew of Godspell put on three extraordinary performances under the direction of Mrs. Cox, Upper School Drama teacher, and senior Rowan Smith as the student director. We are incredibly proud of our Fine Arts Department and all who were involved in this fantastic fall production! It was a unique opportunity to share about the love of Christ. Check out the photo album on Facebook.

WA sophomore Madison Sanders was selected and participated in the 2023 Florida ACDA Honor Choir (American Choral Directors Association). Over 400 students auditioned, and only 153 students were selected. This was an outstanding achievement for Madison and an excellent opportunity to showcase her abilities. The honor choir presented Requiem for the Living by Dan Forrest—a beautiful work proclaiming God's great rest and peace.
The Marching Band made its inaugural appearance at Homecoming last month! Our students have been working hard, and the band raised the level of school spirit for the PawPrint parade, which also included our cheerleaders from after-school enrichment and lower school Lions!
The Festival of the Arts has been rescheduled for Tuesday, January 23, 2024.