11 May

Spring Sports At WA!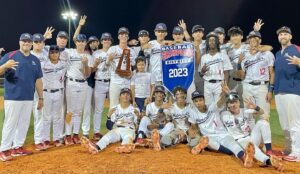 Varsity Softball—Congratulations to the Varsity Softball team for ending their season as District Champions, defeating Boca Christian 15–0. They finished the season with a 19–7 record.
Varsity Baseball—Congratulations to the Varsity Baseball team as they became District Champions defeating Sagemont 14–10. They won their Regional Quarterfinal game and will advance to the Regional Semifinal game, where they will play John Carroll High School on Friday, May 12, at 6:00 p.m. at the Lawnwood Baseball Complex in Fort Pierce.
Track and Field—Congratulations to the Men's Varsity Track and Field team as they advanced to become District Champions.
Individual District Champions include:
Fisher Blake (Javelin)
Claire Chanon (800m)
Marlo Hibler (1600m—new school record of 5:15.53)
Pilar LaCaria (Javelin—new school record of 29.37)
Jonathan Pena (800m, 1600m, 3200m)
DJ Wimbley (High Jump)
4x100m relay of Mia Barcus, Ella Clements, Sophia Elmer, Abbie Sudduth
4x800m relay of Cooper Hermann, Jonathan Pena, Tyler Pritchard, Daniel Puce
Regional Track and Field Champions:
Marlo Hibler (3200m)
Jonathan Pena (1600m)
Also qualifying for States is Fisher Blake, Amari Deer, David Harvin, Cooper Hermann, Latron Hickson, Zach Roch, Jahlan Paul, Tanner Pritchard, Tyler Pritchard, DJ Wimbley
The Track and Field team will compete in the State Meet on Wednesday, May 17, at Hodges Stadium in Jacksonville.