07 Apr

Fine Arts Students Shine In Little Women!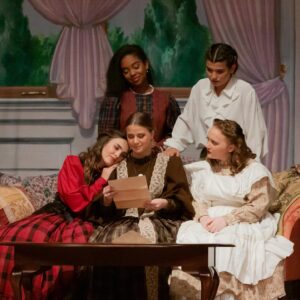 On March 26 and 27, the Fine Arts Department presented an outstanding performance of the musical,
Little Women
. The character development, singing, and choreography certainly put our talented students on display. There was barely a dry eye as the audience watched this mesmerizing production and incredible students perform very moving numbers on stage.
Furthermore, the school musical had a faculty investment as well. Laura Groves spearheaded the beginnings of blocking scenes and students memorizing their lines, while Rachel Cox was on maternity leave. Neil Nelson and Lisa Wilson expertly taught the music to the cast, while Sonja Timmer constructed the set. Rachel Cox returned and pushed the students further with their characterization and acting and put all the finishing touches on blocking. Former student director and alumna, Ava Gaus, choreographed the dance numbers that added energy and dynamics to the songs. Once again, Jeff Caroll beautifully directed the professional orchestra and Iris Fisher costumed the stunning period dresses for the cast! We are so blessed to have both Jeff and Iris on the team and congratulate them once again on their retirement this year. We also express our gratitude to the student production team, Maxine Seelig and Malia Erlich, for working so hard to create such an amazing show!
Special thanks to our title sponsor, Sage Dental and Orthodontics, and additional sponsors D&D Welding and Fabrication LLC, Law Offices of Loreen I. Kreizinger, McKinnon Wright Wealth Management, and Ryan Critch Real Estate for sponsoring this year's school musical.