17 Aug

Welcome Our New Director of Security, Steve Feeley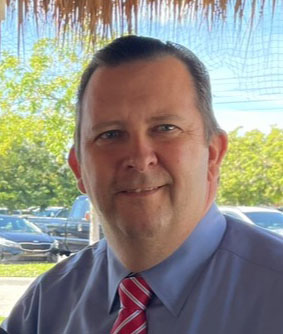 We are pleased to announce that Steve Feeley will join us as our new Director of Security in September.
Steve
was born in Naperville, Illinois, but was raised in Pompano Beach, Florida. He attended Saint Coleman Catholic School and was in the 2nd grade the day it snowed in Florida!  He attended Cardinal Gibbons High School. A year after graduation, he took a job with the Broward Sheriff's Office in 1989. His 34-year career took him to many different places in law enforcement, but he remained in Criminal Investigations the longest.
Steve
worked in the Violent Crimes Unit, the Robbery Unit, the Special Victims Unit, and the Homicide Unit. He will retire from BSO on September 1, 2023, as the Executive Lieutenant in Criminal Investigations.
Steve
earned a bachelor's degree in public administration in 2018 and lives in southeast Pompano Beach.
Steve
remains committed to his church, his community, and Special Olympics. 
Steve
enjoys golfing and traveling and is excited to start the next chapter of his career as the Security Director for Westminster Academy on September 5, 2023.
We are excited for him to become a part of the Westminster Academy community. We are also grateful for the many improvements in campus safety and security that have been made over the past several years—including a single point of entry, Fort Lauderdale Police Department presence, a professional
security
team,
and
many other measures.