11 May

Highest Auction Proceeds In School History!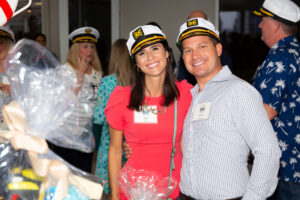 We are thrilled to share that the 2023 auction, Chart the Course, raised over $523,000, the highest gross proceeds in school history! This includes over $86,000 for the James F. Lindsay Gymnasium renovation, which is already in progress.
Congratulations to Mauricio Fantoni and Maria Palacios who won the $5,000 tuition credit for next school year and thank you to all who purchased tickets for the drawing! With much to celebrate, we also have many to thank! This event would not be possible without the generous in-kind donations of local businesses. In addition, we thank those who solicited these businesses on behalf of WA. We are also grateful to the Lower School/PREP parents who contributed to the class baskets, and all of the Lions Parent Association volunteers who put so much effort into making the event a success!
We are so grateful for 29 sponsors who generously contributed $62,000! Special thanks to our Title sponsor Benedetti Orthodontics and Captain sponsors, ChenMed, McKinnon Wright Wealth Management, and Valuetainment. We would also like to thank our First Mate sponsors, Benchmark Financial, Forever Lawn Gold Coast, JP Miller & Sons Services, Collision Care Xpress, Allan & Alejandra Ora, South Florida Smile Spa, All Atlantic Benefits, Sage Dental & Orthodontics, D. James Kennedy Foundation, Brian & Lisa MacClugage, Aetna, A&T Dry Cleaners, and our Navigator sponsors Risse Brothers, MetLife, Coral Ridge Presbyterian Church, and our Sailor sponsors, F45 Training Pompano Beach, Legacy Staffing Associates, BDP Marine, Dry Concepts, Atlantic Injury Law, Matt Salvatoriello Real Estate Group, Chick-Fil-A Fort Lauderdale, South Florida Oral & Facial Surgery Dental Impant Center, Ameriprise Financial Cammarata & Associates, and Family Underwriter, Ron and Diana Stauffer.
All proceeds will benefit students through our Annual Fund, which serves to invest in people, strengthen programs, and enhance places on our campuses. Your generosity, combined with tuition, supports every student, every teacher, every day! Please contact Sarah Hajduk, Director of Development, at hajduks@wa.edu or 954.815.7201 if you would like further information about how you can support our school.