09 Feb

Junior Thespians Take "States" By Storm!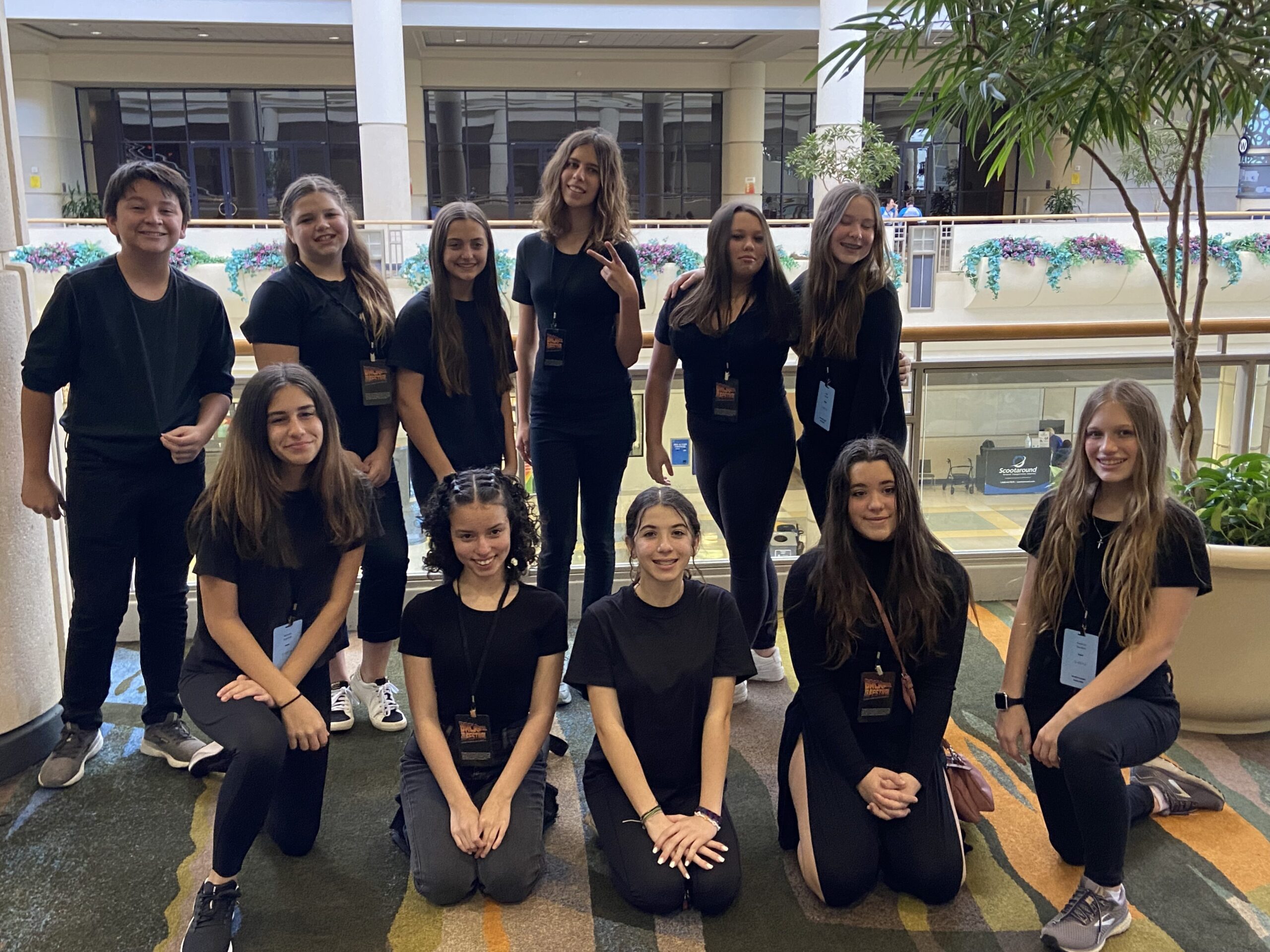 Our awesome WA Junior Thespians spent last weekend in Orlando at the Florida State Junior Thespian Festival. These talented 6th–8th-grade students attended performance workshops, then competed in multiple events to showcase their acting, singing, and overall performance abilities.
To qualify to attend the State Festival, they first had to compete and receive a high enough score at the District level, which happened locally in November. At that competition, nine of our performance and technical theater "events" scored in that range, so those events are what the students then presented in Orlando. Some of the events featured solo students, duets/trios, and one whole-group musical number. The big goal at the State Festival is to score high enough to earn either an "Excellent" ranking or the coveted "Superior" ranking, saved for the best of the best.
Of our nine presented events, we are excited to announce that our outstanding WA students earned two "Excellent" rankings and seven "Superior" rankings!
A celebration BBQ dinner was held at Mrs. White's house on Saturday, and then the students spent the next day at Universal's Islands of Adventure to end a fun weekend. You can also see many of these talented students later in the year when they perform in both Shrek and Cinderella on the WA stage. We are so proud of our many WA fine arts students, especially our Junior Thespians!
Monologue: Reese Mathis with "Lucy's Daydream" from You're a Good Man, Charlie Brown – Excellent!
Ensemble Acting: Brianna Boynton, Story Truss & Juliana Lonetta with a scene from Cinderella – Excellent!
Costume Design – Annabelle Van Tine with designs from Hairspray the Musical – Superior!
Solo Musical: Madison Sanders with "She Used to Be Mine" from Waitress – Superior!
Solo Musical: Camilla Zayas-Cruz with "What It Means to Be a Friend" from Thirteen – Superior!
Solo Musical: Olivia Oropesa with "Lost in the Brass" from Band Geeks – Superior!
Duet Musical: Juliana Lonetta & Olivia Oropesa with "If Momma Was Married" from Gypsy – Superior!
Monologue: Madison Sanders with "Forget About Me" from The Bullied – Superior!
Large Group Musical: Madison Sanders, Camilla Zayas-Cruz, Olivia Oropesa, Juliana Lonetta, Greta Harms, Brianna Boynton, Story Truss, Reese Mathis, Luis Ramirez, Annabelle Van Tine, & Kate Hajduk with 'I Won't Grow Up" from Peter Pan – Superior!