06 May

National Honor Society Induction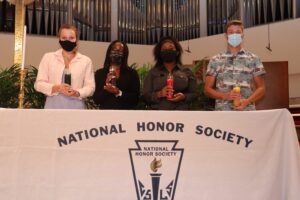 The National Honor Society (NHS) elevates a school's commitment to the values of scholarship, service, leadership, and character. These four pillars have been associated with membership in the organization since its inception in 1921. Students must have a cumulative GPA of 3.75 to be invited to join and then complete an application.
Thirty-two students were inducted into the National Honor Society in a special ceremony on May 5. The service was led by the current officers of NHS – Josephine Richter, Blakeman Shaw, Arion Session-Walker, and Adrianna Desir, under the leadership of Adviser, Mrs. Michelle Perry.
Congratulations to the inductees:
Isaque Bessa, Katharine Calvet, Gabrielle Cammarata, Kristen Carbon, Josiah Carre, Lillian Clemens, Ella Clements, Alexandria D'Aleo, Samuel Davey, Caleb Davilmar, Samuel Freas, Micaela Gappen, Lucas Greenwood, Weston Happ, Mia Harms, Olivia Holland, Samuel Joseph, Debora Kaszoni, Marc-Anthony Lue, Christina MacClugage, Ava McAllister, Lilla Muller, Fabiana Navarro, Emily Nguyen, Virginia Scasserra, Stephen Seckinger, Brooke Sinclair, Alexander Coleman Smith, Rowan Smith, Logan Stroud, Ashlynn Walden, and Olivia Weissman.