06 May

Miami Herald Winter All-County Teams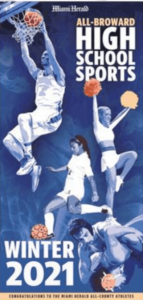 Congratulations to the Sun-Sentinel Winter All-County Athletes!

Ladies' Basketball
First Team: Claire Erickson, Emma Wallhoff
Second Team: Lena Girardi, Taelynn Carey
Third Team: Kiara-Simone Davis
Men's Basketball
First Team: Ben Middlebrooks
Third Team: Aidan Abell
Honorable Mention: Jaylen Carey, James Nichols
Ladies' Soccer
First Team: Lilly Nava
Second Team: Louisa Gammill, Christiana Hewlett
Third Team: Rebecca Forrester
Honorable Mention: Danielle Forrester, KiAndra Griffith, Carolina Molina, Raquel Molina
Men's Soccer
First Team: Jaiden Clunis, Ethan Rose
Second Team: Julian Camejo, Micah Lewis, Brandon Lue
Third Team: MJ Miller
Honorable Mention: Cason Alday, Jahlan Paul
We are proud of your accomplishments! Let's Go Lions!