05 May

Lower School Science Fair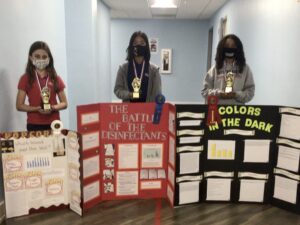 The fourth and fifth-grade classes have been working hard on this year's Science Fair projects. Each student did individual experiments as they displayed their knowledge of the Scientific Method. The fourth-grade winning projects were selected with the help of the National Honor Society. The fifth-grade students presented their projects before two judges on Monday, April 26. The judges were very impressed by all of the hard work, scientific thought, and creative display boards, making their job of deciding the top three very difficult. A special thank you to all of our judges: Mrs. Scasserra, Mrs. Pierce, Mrs. Leonard, and our special judge and alumnus, Dylan Wood.
4th Grade Winners
1st Place: Becca Chen – Cleaning Pennies
2nd Place: Lana Easley – Gummy Bear Osmosis
3rd Place: Avery Carvell – Measure of Viscosity
Honorable Mentions: Anna Cochrane – Counting Raisins, Ani Lizaso – Glo Science-Pro White, Mason O'Neil – Will Ice Melt Faster in Saltwater or Freshwater?, Rylee Muharsky – Evaporation, and Nate Gant – Let's Rocket.
5th Grade Winners
1st Place: Aioni Poon – The Battle of the Disinfectants
2nd Place: Klorey White – Colors in the Dark
3rd Place: Emma Savalli – Which Brand Pops the Best?
Honorable Mentions: Tristan Hott – Shining Show-Down, Chad Macy – Cool as Ice, Holly Coleman – Flower Power, Joey Pekic – Batter Up, and Annabelle Van Tine – Egg-Cellent Teeth.
Afterward, each fifth-grade student wrote a paragraph and drew a picture for our bulletin board reflecting on their "God Connection" they made as they were doing their project.  Thanks to all for a job well done.