06 May

Inaugural AP Capstone Presentations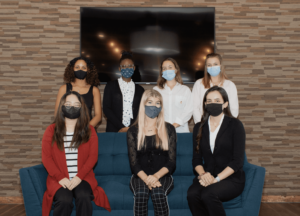 The inaugural AP Capstone Presentation and Oral Defense took place on April 19. This was the culmination of the AP Capstone diploma program from the College Board for four special WA seniors: Alicia An, Julia Andert, Amanda Collins, and Jade McCurvin. Last year, unfortunately, WA's AP Research students were not able to perform their PODs due to COVID-19 restrictions and WA's school closure. We would also like to honor Christiana Hewlett, Josi Richter, and Kayla Williams who completed the AP Capstone program (AP Seminar for one year as sophomores and AP Research for another entire year as juniors).
The AP Capstone diploma is based on two year-long AP courses, AP Seminar (taught by Dr. Groves) and AP Research (taught by Mrs. Gant). These courses develop students' critical reading and writing skills in research, analysis, evidence-based arguments, commentary, and oral presentation skills. These four exceptional seniors, upon completion of their 30 to 40 page Academic Paper, delivered a powerful and well-rehearsed 15–20 minute presentation followed by three to four oral defense questions from a panel of four evaluators including Dr. Groves, Walt Jominy, Donna Payner, and Mrs. Gant. These remarkable seniors were able to produce essentially a "mini" Ph.D. Academic Paper, complete with their own research, all while still being enrolled in high school. The presentation allowed these students to showcase their research by communicating effectively and succinctly to an educated panel.
Each of these young ladies embodies our Portrait of a Graduate!

Alicia An is an alternate for the fast track for the dental program at Nova Southeastern University

. She received the Dean's (academic) Scholarship and the Shark Legacy Scholarship.

Julia Andert has been accepted (on the fast track) to Nova Southeastern University's dual admission osteopathic medicine program. She received the Dean's (academic) Scholarship and the Shark Legacy Scholarship and desires to be a pediatrician.
Amanda Collins has been accepted to Florida State University and aspires to be a lawyer.
Christiana Hewlett has been accepted to the Micah Fellows (Honors) program at Samford University, which allows students to make a difference in underserved communities in Birmingham and she plans to major in Journalism.

Jade McCurvin will attend the University of Pittsburgh and aspires to be a pediatric surgeon.
Josi Richter has been accepted to The University of Miami Hert Business School and the pre-law program. She desires to be a children's advocate (guardian ad litem) and ultimately wants to become a lawyer who represents children in domestic matters.
Kayla Williams has been accepted to Florida State University and is seeking a pre-law track, studying political science to become a lawyer. She desires to work on prison reform for a nonprofit organization. Her dream job is to work as a Supreme Court Justice!