06 May

Congratulations To Our Pinnacle Award Winners!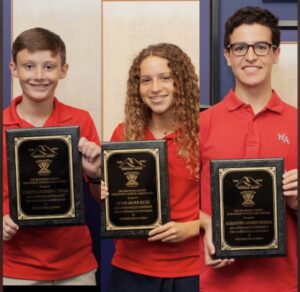 Each year, the Broward County Non-Public School Association honors exceptional students. The Pinnacle Award recognizes students who set an example in their actions at home, in school, and in the community. In addition, they excel in one or more of these areas: academics, community service, citizenship, fine arts, athletics, and student activities. Furthermore, these students have strong character traits such as perseverance, effort, dedication, commitment to positive goals, improvement in performance, and attitude.
Congratulations to the following students:
Joey Pekic, 5th-grade
Lynn-Rose Ruiz, 8th-grade
Alejandro Andres Molina, 12th-grade
We are proud to call these students WA Lions!