10 Dec

Swimming And Diving Represent At Regionals And States

Posted at 12:34 PM on December 10, 2020,

in

Athletics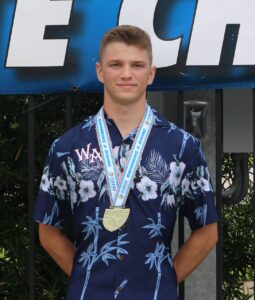 After winning both the men's and women's district championship for the first time in program history, the swim and dive teams continued their successful post-season at the regional and state championships. More than 20 swimmers and divers qualified for the regional meet and many of them placed in the top 16, scoring valuable points for the team. Senior Blake Shaw was again the regional men's diving champion. Fellow divers Makenzie Blake and Abigail Farrar finished 3rd and 4th in ladies diving, qualifying them for the state championship meet. Senior Josefine Richter finished 5th in the 100 back and 12th in the 50 free. Eighth-grade student, Christian Clark, placed 7th in the 50 free and 8th in the 100 free. Sophomore, Mark Pekic, scored in two events with 12th place in the 200 IM and 15th in the 100 breast. Rounding out the individual scorers were Sydney Gordon (13th in the 50 free), Tori Barbar (15th in the 500 free), and Max Flores (16th in the 100 fly).
In addition to the individual performances, all of the Lions' relays placed in the top 16 with season-best times. The ladies 200 medley relay (Josefine Richter, Abigail Weissman, Sydney Gordon, and Marley Scott) and the men's (Lucas Figueroa, Mark Pekic, Max Flores, and Christian Clark) were 7th and 8th respectively. The 200 free relays of (Richter, Scott, Gordon, and Lynn Rose Ruiz) and (Clark, Flores, Pekic, and Jordan Cote) were both 7th. The meet concluded with the 400 free relays (Barbar, Emma Weissman, Karsen Reeves, and Scott) and (Cote, Figueroa, Frank Maio, and Jeremiah Critch) finishing in 10th place.
At the state championship, Blake Shaw (pictured) capped off a stellar career by winning the 1A state title for the second consecutive year. The ladies divers also shined as Makenzie Blake placed 3rd and Abigail Farrar was 12th. Senior swimmer Josefine Richter also was a highlight as she returned to the state championship after two shoulder injuries, surgery, and 18 months out of the pool, to do a season-best time and finish 17th.
We are extremely proud of all our swimmers and divers and look forward to continued success in and out of the pool.