13 May

WA Students Selected For Florida Youth Orchestra

Posted at 12:12 PM on May 13, 2020,

in

Arts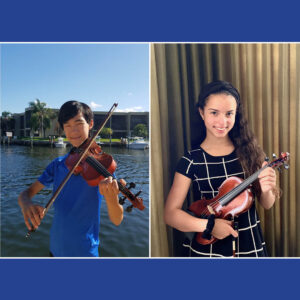 We congratulate sixth-grade student, Camilla Zayas-Cruz, and eighth-grade student, Bryan Wells, for their acceptance into the Florida Youth Orchestra (FYO). With over 400 members, FYO is an audition-based youth orchestra with five orchestras of differing levels. Both students will play in the Symphony Orchestra, the second-highest level.
Auditions take place each spring to give students the opportunity to advance to a higher level. Because of COVID-19, auditions could not be in person this year. Camilla, who is currently playing in the eighth grade WA orchestra, used Zoom for her audition. However, for Bryan, FYO invited him to the next level based on his experience with them. "It's quite an honor!" Mr. David Schwartz, WA Orchestra Director, explained.
Over 400 members strong, FYO is Florida's premier youth orchestra. Since 1988, the Florida Youth Orchestra has been providing the highest quality classical music education for young talented musicians. The orchestras and ensembles perform for thousands of concertgoers each year, as well as regular appearances on local and national television and radio broadcasts. FYO focuses on preparing many members for careers in music. In addition, countless FYO alumni have been accepted into the nation's most prestigious colleges and conservatories, consistently receiving the most coveted awards, honors, and scholarships.