14 May

Track & Field Season Recap

Posted at 1:35 PM on May 14, 2020,

in

Athletics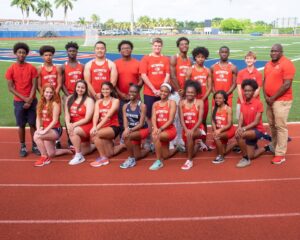 The Track and Field Program was remarkable in the truncated season. It began with the coaching addition of Brenda Montgomery and Richard Polack.
First, the throwers gave the Lions a kickstart. Senior, David Zhu produced his best opening throw in the shot put and discus. Meanwhile, fellow senior, Steven Tinsley belted out first-place finishes. His top mark of 15.26 in the shot put and 47.10 in the discus placed him in the top 3 State Series rankings in both events. Newcomers, Joshua Joseph and Ryan Mickow will have huge shoes to fill. In addition, Taliyah Mizell won the high jump and discus at the WA Home Open 2 with an 8‑foot personal record, now 94 feet in the discus. She also placed second in the shot put with a new personal record of 27 ft 10.25.
Other personal records include a new shot put record for Sarah Larkin Lewis at 22ft 9.75. Despite an injury, Melissa Murphy set a new personal best of 21.70m in the discus. In addition, senior, Audrey Aguiar established new personal bests upon her return to the rings.
In the jumps, James Fears and Ryan Gayle ranked in the top 20 at the state level. They will undoubtedly be top contenders for the 2021 state title. In the long jump, Gayle, Donovan Lassiter, and senior, Joshua Eliacin all ranked in the top ten in the region.
For relays and sprints, the men's 4x100 team opened with their fastest time in five years. Comprised of senior, Donavan Lassiter, Micah Lewis, Ryan Gayle, and freshman, Bryce Brown, the team took second at the Panther Invitational. Brown led the team in the 300m while Micah Lewis led the team in the 200m. Meanwhile, Lassiter led the team in the 100m and ranked sixth among seniors in the FHSAA 100m. Notably, middle school athlete, Tovani Mizell anchored our 4x100 and 4x400 relay teams to victory.
Sophomore, Shyanne Scott ranked in the top 20 in the State Series rankings for the women's 100m and ranked tenth for the 200m. In her first outing for track, junior, Kiara-Simone Davis won the WA Home Open 2 in the 400m with a time that placed her fifth on the regional leaderboard.
For these small victories, WA Track and Field gives God thanks.