13 May

Tennis Season Recap

Posted at 1:20 PM on May 13, 2020,

in

Athletics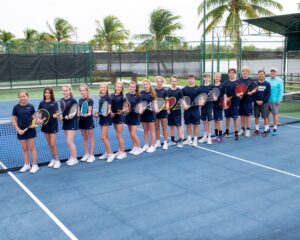 The 2020 Varsity Ladies' and Men's Tennis shortened season was certainly a memorable experience. Even before COVID-19, the coaches and team looked to their team motto from Jeremiah 32:27 as a reminder that God has a plan and to be thankful for every experience.
Seniors J.J. Babun, Tommy Kline, Meghan McCormick, and Brandon Meade will have many memories to take away from their senior season. Meghan, especially, will always remember her undefeated senior year. These four student-athletes were great mentors for the younger players. They played an integral role in the program for many years and will be incredibly missed.
This team was special for many reasons. They enjoyed great camaraderie with positive encouragement built among the teams, including the rookies. No matter what the grade level, the teammates supported and encouraged each other through it all. In addition, every player improved significantly from the first day until spring break.
The ladies' team finished the season undefeated in their district and were projected to be District Champions. Katharine Calvet showed much promise to win Districts and qualify for States in the #1 Ladies' Singles as well as in Doubles with senior teammate, Meghan McCormick. Meanwhile, the men's team worked hard each day and, despite their record, faced every match and challenge with encouragement and persistence.
The future looks promising for the tennis program with talented veterans and the addition of many new players who joined this season. Go Lions Tennis!