13 May

Softball Season Recap

Posted at 2:33 PM on May 13, 2020,

in

Athletics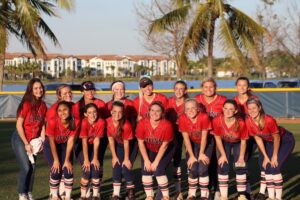 The 2020 varsity softball season left everyone wondering what could have been. Having every player return from the 2019 season along with a few new additions, the team hoped for great success. The season kicked off on a high note with two wins. First, they won the South Florida Preseason Classic against Lourdes Academy. Then, the team celebrated an exciting walk-off win against Gulliver Prep.
Another memorable victory was against district rival, Florida Christian. The team captured a come-from-behind victory, defeating the Patriots 11–10 after being down ten runs going into the 7th inning. Key moments include sophomore, Kamryn Casey hitting her first over-the-fence home run in the first inning. Then, eighth-grade student, Olivia Holland belted a grand slam home run in the top of the 7th to put the team back on top.
The team was just finding its groove. Suddenly cut short due to COVID-19, the team spent the rest of the season finding solace in team zoom workouts and meetings. Throughout the week, these online gatherings created fun memories and many laughs.
Lone senior, Emma Hoffman, will be missed immensely. She is the epitome of a great teammate, known for her loyalty, leadership, dedication, and work ethic. Emma was on her way to a great senior year. She led the team in several categories, including batting average (.625), RBI, and slugging percentage. Moreover, Emma celebrated her 100th career hit this season, a great milestone for her high school career. The coaches and team are so thankful for Emma and for all of the heart she put into the WA Softball Program.
Although the team loses its ace and a big bat from Hoffman, the 2021 season looks favorable. With seven rising seniors, the senior-heavy team will have an athletic and talented group behind them. Go Lions Softball!