14 May

Men's Water Polo Season Recap

Posted at 9:42 AM on May 14, 2020,

in

Athletics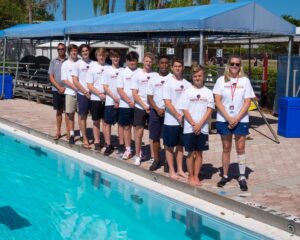 The Men's Water Polo team had a tremendous season. If not for the premature ending, they would have likely finished with a district title and a strong shot at qualifying for the state tournament. Commitment and hard work were the keys to their success. They started the preseason with challenging captain's practices. Additionally, many of the players did double training by adding a practice during the morning hours before school.
There were many new faces this season, and Coach Dani Cercols was pleasantly surprised how fast they learned. The team finished the shortened season with 6 wins and 3 losses. They were led by senior captain, Trent Shaw, who tallied 31 goals, 47 steals, and 31 assists. Trent helped inside and outside of the water by pushing the new players to be their best. Meanwhile, senior and "big wall" goalie, Joseph Maxson, collected 121 saves and 27 assists. He stopped everything and was outstanding at starting counter-attacks. New players, Max Flores and David Philips were strong defenders while senior, Frank Angione, showed off his complete game with lockdown defense and a strong shot.
The team adapted very well to a new style, focusing on fast transitions and counter-attacks. Therefore, speedy senior, Christian Henderson, helped Charlie Scasserra, Aiden Paterson, William Moreland, and Mark Pekic keep the Lions' game a fast-paced one. Junior, Riley Clements, was the top scorer of the team with 42 goals and 8 steals. He did a great job taking on the top players of the opposing teams. However, Jeremiah Critch also played a vital role on the team. He often scored clutch goals while learning a new position. Finally, the team would also like to give a special mention to the young generation of up and coming players, David Maxson and Christian Clark. Coach Cercols gave them great responsibility against much older players. Theses young men showed that they would be a strong force in the years to come.