14 May

Ladies' Water Polo Season Recap

Posted at 9:38 AM on May 14, 2020,

in

Athletics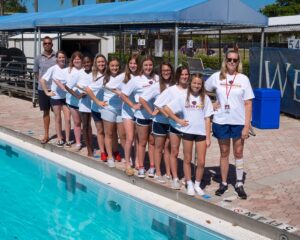 The Ladies' Water Polo team had a great season highlighted by close wins and abundant scoring. Because of COVID-19, the ladies missed the opportunity to regain the district championship. However, the season culminated in a remarkable 12–11 senior night victory against Cypress Bay High School.

The team fought hard until the end of every game and showed tremendous improvement throughout the season. Senior center, Shaion Falconer, helped lead the attack with 13 goals and 6 steals along with the powerful Weissman sisters, Emma (24 goals, 17 steals), and Abby (23 goals, 56 steals). Goalie, Melanie Gianino, tallied 48 saves and 7 steals. She had a great season and showed great promise for the future. In addition, two more new pearls of water polo at WA were Olivia Weissman (12 goals, 14 steals) and Lynn Rose Ruiz (6 goals, 17 steals). Despite being one of the youngest teams, the Lady Lions showed great courage and determination to help the team to achieve their success.
It would not have been a successful season without the superb defense of Emily Graham (21 steals, 12 assists) or Karsen Reeves (8 goals, 9 assists). Both players were vital in keeping the opposing top players under control.
Coach Dani Cercols is especially proud of the new generation of players who joined the team. They achieved optimal shape to play one of the most challenging sports. Emmy Vlamis, Annie Ramirez, and Syndey Gordon showed that they would be a force in the coming years. Meanwhile, senior, Makayla Lucas, was an inspiration to many. She took on a new sport and a new position when the team needed a goalie to start the season.
Go Lady Lions Water Polo!