02 Apr

WA Alumnus Paul Atkinson '17 Is Ivy League Player Of The Year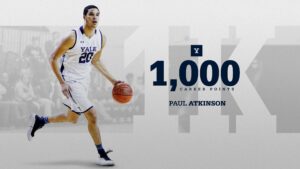 What a year WA Alumnus, Paul Atkinson '17, has had as a Yale Bulldog! His contributions to their basketball team have been significant.
First, in late February, Paul reached 1,000 career points. He became the 30th player in Yale's school history to score 1,000. This season, Paul averaged 17.6 points and 7.3 rebounds per game. A few short weeks later, the Junior Forward was named Ivy League Co-Player of the Year and became a unanimous All-Ivy League First Team selection.
On the heels of these milestones, Paul recently announced he decided to enter the 2020 NBA Draft while maintaining his eligibility. In other words, as a junior, he has the option to return to his Yale team next year. Therefore, we wish him well on this journey, and we pray for God to provide him wisdom and discernment for the year ahead.
"It's exciting to see such a great kid continue his path of success. Paul is a winner on and off the court, and that is evident in how he handles himself. As a coach, I couldn't be prouder of Paul and his accomplishments," Varsity Basketball Coach Ehren Wallhoff said.