16 Apr

Live Ask The Experts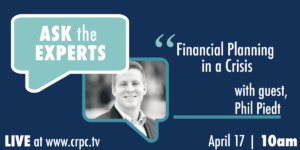 Coral Ridge Presbyterian Church invites the WA Community to join them online this Friday, April 17, at 10:00 a.m. for their first Live Ask The Experts event. Special guest and WA alumnus, Phil Piedt '07, CFP, RICP, will discuss Financial Planning in a Crisis.
Phil has worked at Benchmark Financial for over ten years. In addition, he currently serves as a WA school board member. With a large knowledge base for financial planning, Phil has a history of giving back to his alma mater. Many in the WA Community will remember Phil for generously hosting College Planning Seminars in years past.
You won't want to miss his invaluable tips and insights regarding financial planning during this uncertain time. Click here and join us tomorrow morning!