12 Mar

Wheaton College Men's Glee Club Performing This Weekend

Posted at 2:29 PM on March 12, 2020,

in

Arts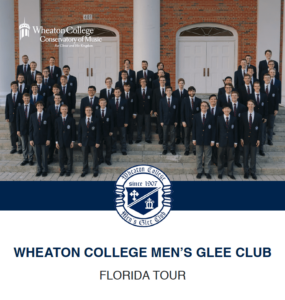 Coral Ridge Presbyterian Church invites you to enjoy a free concert this Sunday, March 15, at 2:00 p.m., given by the Men's Glee Club of Wheaton College. The 50-member ensemble is currently touring Florida. First, our students will enjoy a private concert when they lead Chapel tomorrow. Then, their concert on Sunday is open to the public.
Steeped in tradition, the Wheaton College Men's Glee Club is now in its 113th year. The all-male choral ensemble continues to provide audiences a unique combination of Christian witness, musical vitality, and esprit de corps. The Men's Glee Club consists of students from all over the United States and the world in various academic studies at Wheaton College.
Dr. Mary Hopper conducts both the Men's Glee Club and Women's Chorale at Wheaton College. She is the Professor of Choral Music and Director of Performance Studies at the Wheaton College Conservatory of Music. She is also President of the American Choral Directors Association.
For more information on the tour, please visit wheaton.edu/mgctour.