12 Mar

Fine Arts Joins University Master Classes

Posted at 2:32 PM on March 12, 2020,

in

Arts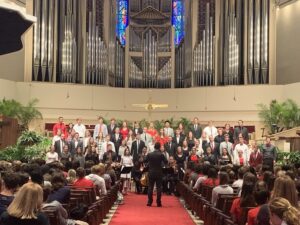 Last week, our Fine Arts students enjoyed the benefit of joint partnerships Westminster Academy holds with two universities.
First, our high school orchestra visited the University of South Florida in Tampa this past Thursday and Friday. At the invitation of Dr. William Wiedrich, the orchestra director at USF, high school students joined Dr. Wiedrich for a master class at their beautifully designed concert hall. "I first met Dr. Wiedrich at the Broward All-County Orchestra event where we became professional friends," Mr. David Schwartz, WA Orchestra Director, explained. "He has conducted All-County and All-State events and offers much to the many students he instructs. Our time with him was both exciting and enlightening as he was able to draw out of the students new abilities they did not know they had."
Meanwhile, Westminster Academy hosted the Indiana Wesleyan Chorale on Friday. Their choir lead high school's Chapel and then later a Master Class with the WA Choir. IWC Conductor, Davy Chinn, led a combined choral workshop with our upper school choir students and the Indiana Wesleyan Chorale. The groups sang warm-ups together and focused on posture, vowels, rhythmic energy, and phrasing. They sang together, and then they sang for each other. "It was a wonderful time of sharing choral techniques and praising our Lord! It truly was an amazing experience," Mrs. Lisa Wilson, Director of Fine Arts, said.
Now, we look forward to Chapel tomorrow when Wheaton College's 50-voice Men's Choir will lead our upper school students. Their conductor is the President of the American Choral Directors Association, Dr. Mary Hopper. They will also host a workshop for our Choir students immediately following the Chapel program.
Westminster Academy is truly blessed to partner with these colleges!