04 Mar

Basketball Season Recap

Posted at 1:17 AM on March 4, 2020,

in

Athletics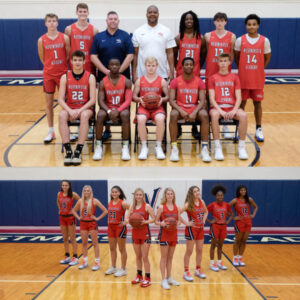 We congratulate our Men's and Ladies' Varsity Basketball teams on their hard work this season! They both contributed two more district championships for WA Athletics.
Ladies' Varsity Basketball
The Ladies' Varsity Basketball team had a very successful 2019–20 season. Filled with a lot of competitive games this season, they also had the opportunity to travel to Washington, D.C., to participate in the She Got Game National Tournament. The lady lions were able to capture back-to-back district titles this year, defeating Calvary Christian Academy 68–36. The ladies advanced to the regional final, where they fell short to Miami Country Day. They started finished with a 21–5 record.
"This is an exceptional group of young ladies, and I am very proud of all of them. They are a close-knit group who came to practice and games ready to compete every day. It was exciting to capture back-to-back district titles and make a run to the regional final. We will greatly miss our seniors, Destiny Mergilles and Lisa Barra, but look forward to following their next journey. I am blessed to have coached such an awesome group of young ladies and looking forward to the 2020–21 season!" Ladies' Basketball Head Coach, Shannon Wallhoff, said.
Men's Varsity Basketball
The Men's Varsity Basketball team had another strong year with a record of 21–9. They continued the tradition by capturing their fifth district championship in a row with a win over Calvary Christian Academy 82–63. This year's lions were a young team that lost 75% of their scoring from last year. However, they learned to be battle-tested. Because the youth received a lot of experience throughout the year, the future is bright for Men's Varsity Basketball!
"It was a testimony to our seniors who continued to demonstrate what it takes to be a champion and build the WA Lion culture. We will greatly miss our seniors, Joshua Eliacin, Stephan Swenson, and Dylan Wood, on and off the court. I am excited for what the future holds and the life lessons we learned this year," Men's Basketball Head Coach, Ehren Wallhoff said.