13 Feb

Winter Sports Celebrate District Wins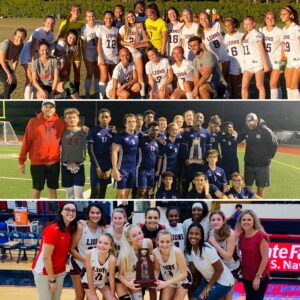 It could not have been a more successful week for our Winter Sports Teams! In just five days, three of our four Winter Varsity Teams brought home District Titles! Congratulations to the following teams:
Ladies' Soccer defeated the SF Heat 2–1 on Monday, February 3
Men's Soccer defeated Highlands Christian 2–1 on Friday, February 7
Ladies' Basketball defeated Calvary Christian 68–36 on Saturday, February 8

In addition, the Junior Varsity Boys' Basketball Team won the SACC Tournament Championship on Saturday, February 1, when they defeated Highlands Christian 67–48 in the Final. Similarly, we hope our Men's Basketball Team will join the District Title ranks shortly. They play Calvary Christian in the District Finals at home on Saturday, February 15, at 7:00 p.m. Then, the men will begin their quest for a fourth consecutive State Championship.
Now, the hunt is on for Regional Titles. We wish our teams well as they seek to advance. Here is the schedule for the next few days:
Tonight at 7:00 p.m.: Ladies' Basketball play in the Quarterfinals against Somerset Prep in the WA Gym.
Friday, February 14, at 5:00 p.m.: Ladies' Soccer advances to the Semifinals to face the South Florida Heat at the west campus Athletic Complex.
Saturday, February 15, at 8:30 p.m.: Men's Soccer advances to the Semifinals in North Miami to face The Hillel School. For directions, click here.
With so much excitement, we will post wins and future games on social media as we confirm them. If you plan to enjoy these games, please bring cash for admissions. District games are $6, and Regional games are $7. Stay tuned and GO LIONS!