27 Feb

Soccer Season Recap

Posted at 3:53 PM on February 27, 2020,

in

Athletics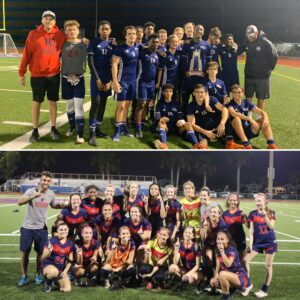 The 2019–20 season was one to remember! This season both Men's and Ladies' Varsity Soccer advanced further than before in the postseason. Last year, they both celebrated a district championship in 2019.
For the men's team, they returned after losing seven key seniors, and questions remained about how successful this year's season could be. However, the team answered the call winning back-to-back district titles and advancing to Regionals. When the Lions upset the highly talented Scheck Hillel team with a 1–0 win, they advanced the furthest in the program's history to the Regional Final. "I am extremely proud of the boys for repeating as District champs and making history reaching Regional Finals. They set a new standard that will be followed for years to come. Our Regional Semi-final game was one of the craziest games I've ever been a part of, and I can't wait for the boys to make history again next season!" Men's Soccer Head Coach, Chris Lamarre said. The Lions finished with a record of 9–4‑3 for the season.
As for the ladies' team, they also celebrated a back-to-back district title and then clinched the 2A Regional Championship by defeating Lake Worth Christian 3–0. For the first time since 2016, Ladies' Varsity Soccer reached States. It was the third time in program history. While their season ended at the semifinal game, we are so proud of the success they achieved. "I am extremely proud of the girls. It was my first year as a Head Coach at WA, and the girls responded very well from Day One. The team was very excited to win the District and Regional titles. I am blessed to have the opportunity to coach and guide this team through such an amazing season. I can't wait for the 2020–21 season!" Ladies' Soccer Head Coach, Caue Rodriquez, said. The Lady Lions finished with a record of 13–7 for the season.