14 Jan

WA Students Joined The All-State Music Conference

Posted at 10:45 AM on January 14, 2020,

in

Arts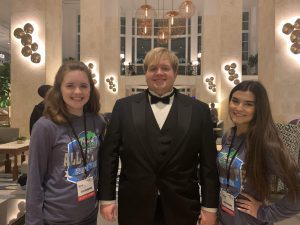 This past week, the Florida Music Educators Association Convention gathered some of the most talented students in the state to perform in Tampa. Three of our students traveled to represent Westminster Academy as part of the All-State Choir. They met for three days of rehearsals before putting on a full program at the Tampa Convention Center.
The All-State Choruses are highly-selected groups of choral students from Florida's middle and high schools. For selection, students must pass three separate tests, including a music theory exam, sight-singing audition, and a vocal quality audition.
Junior, Rachel Castillo sang soprano for the Mixed High School Choir while senior, Luke McCartney, joined the Men's High School Choir. Eighth-grade student, Elena Vanden Berge sang in the Mixed Middle School Choir. Mr. Bernie Gonzalez, WA Choir Director, and Mrs. Lisa Wilson, Fine Arts Director, also attended and helped prepare our talented students.
Congratulations to these three students for receiving this honor and representing WA as some of the best performers in Florida!