23 Jan

SHARK BYTE Wins Robotics Award

Posted at 3:38 PM on January 23, 2020,

in

Academics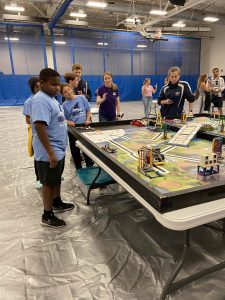 Congratulations to WA's FIRST® LEGO® League team, SHARK BYTE! Last weekend, these fourth through sixth-grade students competed at American Heritage in Delray. Not only were they able to complete a full mission, but they also received recognition for their diligence and teamwork. They won the "Against All Odds" Award. Go SHARK BYTE!
SHARK BYTE welcomes any student who enjoys LEGO building blocks, problem-solving, team-building games, science, or robotics to the team.
FIRST LEGO League is the most accessible, guided, global robotics competition, helping students and teachers to build a better future together. The program is built around theme-based Challenges to engage younger students in research, problem-solving, coding, and engineering. The foundation of the program is the FIRST Core Values, which emphasize teamwork, discovery, and innovation. Students emerge more confident, excited, and equipped with the skills they need in a changing workforce.