23 Jan

Professional Development Day At WA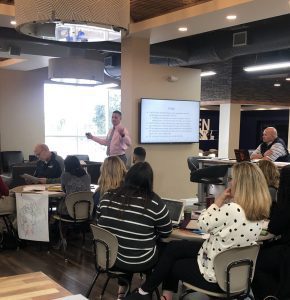 While our students ended the school day early today, our faculty occupied the student desks during an afternoon of professional development. This break in our academic schedule provides our faculty with the time needed to focus on honing their craft.
Today included specific areas for lower, middle, and high school faculty.
For our middle school faculty team, we welcomed the Boston Group to our campus. A consultant guided our teachers through data evaluations and the recent MAP test scores of our students. These assessments deliver deep insight into learning and are instrumental in tailoring the curriculum to the students throughout the school year. Teachers use the data to make decisions for instruction, future strategies, and resource planning in their classrooms.
Similarly, our lower school faculty looked at data as well. These teachers did a literacy framework with an emphasis on using data to drive their instruction.
Finally, high school faculty focused on tools for the classroom that will best prepare students for standardized tests such as the ACT and SAT.
We are grateful for the partnership with the Boston Consulting Group, the technology we strategically use, as well as this mid-week break in our schedule.
All are an important investment in our teachers professionally and are integral to maintaining academic excellence.