16 Jan

Middle School Robotics Competition

Posted at 4:24 PM on January 16, 2020,

in

Academics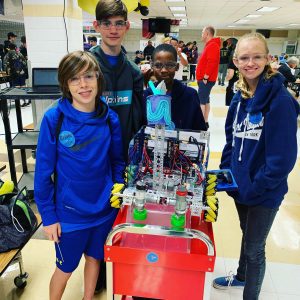 The middle school robotics team, Shark A‑Tech, continues to progress diligently through their competitions. On Saturday, they competed in their third competition against other FIRSTTech Challenge (FTC) robotics teams at Western High School. Throughout the competition, they showed a resilient spirit and got in some good matches. "We have three more weeks until the Championship Tournament at St. Thomas, so we have a little bit of time to make some more improvements," Mrs. Sonja Timmer, FTC Lead Mentor, said.
Through WA's middle school robotics team, students are challenged to design, build, program, and operate robots to compete in a head-to-head challenge in an alliance format. Guided by coaches and mentors, they develop STEM skills and practice engineering principles, while realizing the value of hard work, innovation, and working as a team. We wish our middle school students well as they continue to prepare!