07 Nov

Founder's Week—Concluding November 9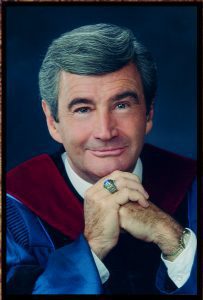 As a kick-off to the season of giving, we are celebrating Founder's Week in honor of Dr. D. James Kennedy. This campaign began on his birthday, Sunday, November 3. Then, throughout this week, we have utilized social media to take a look at our history and highlight what God is doing now at Westminster Academy. Please follow us at Facebook.com/walions and Instagram.com/wacad.
As we reflect on the people that paved the way for the present WA experience, the D. James Kennedy Foundation has provided a $5,000 match to encourage generosity. Our goal is to gain 200 new Roaring Fans, committing to a $25 monthly gift or $300 annually to the Annual Fund. A gift to the Annual Fund serves to invest in people, strengthen programs, and enhance places on our campuses. Download the Guide to Giving and Getting Involved for more details on how your gift makes a difference.
Dr. Kennedy once said, "Not only is there a spiritual factor in Christian education, but also there is academic importance. We believe anything that bears the name of Christ should be excellent." However, the pursuit of excellence is costly. The distinctive qualities that a Christian, private-school education provides require a combination of tuition and charitable donations. This year's annual fund goal is $850,000. As of October 31, our total giving for this year is $264,200, including $114,375 in unrestricted gifts for the Annual Fund.
Please consider a tax-deductible gift to WA by mailing a check to our school address or visiting wa.edu/donate, where you may also set up a recurring gift if you prefer a monthly donation. We will recognize all of our generous donors by listing their names or business in The Lions' Tale, our year-end calendar newsletter. To be recognized in the newsletter, donations must be received by Friday, November 15.
Contact Sarah Hajduk, Director of Development, at hajduks@wa.edu or 954.771.4600, ext. 2504 for more information about how you can support WA.