03 Oct

Three-Peat Golf Win For WA-CCA Cup

Posted at 5:53 PM on October 3, 2019,

in

Athletics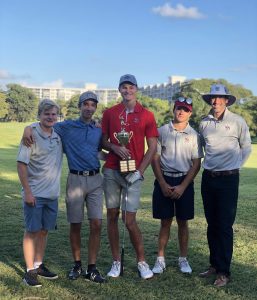 Our WA Varsity Golf Team played against rival, Calvary Christian Academy, on September 26 and 27, at the Palm Aire Golf Club. The annual WA-CCA Cup Championship comes with a trophy cup, and for the third year in a row, WA brought it home!
This two-day team match-play event required some clutch play from senior, TJ Boros and sophomores, Carson Elmer, and Ben Middlebrooks. Both TJ and Carson won their matches outright. Ultimately, Ben won his last three holes to secure the half-point needed to win the Cup.
Go Lions Golf!