10 Oct

Sunshine College Fair This Saturday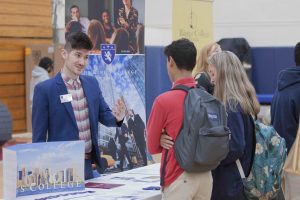 Every year, Westminster Academy joins Saint Andrew's School, St. Thomas Aquinas, and North Broward Preparatory School to sponsor the Sunshine College Fair. This private event for our high school students will take place Saturday, October 12, from 11:00 a.m. to 1:30 p.m. at Saint Andrew's High School in their Malnik Family Athletic Center.
This year, over 215 universities and colleges will attend the fair, giving students ample opportunities to explore their options. Because they will be speaking with admissions representatives, students should plan to wear interview attire. When you arrive, please check-in at the WA table in Gym B (Shapiro Family Adventure Gym).
"This college fair is a great opportunity for underclassmen to gather information and get excited about the opportunities ahead of them," Mrs. Payner, Director of College Planning, said. We look forward to seeing high school students and their parents. Because of the nature of the event, we kindly ask you to leave younger children at home.
To see the current list of colleges and universities that will be attending, please click here. Many Florida public universities will be present. Additionally, colleges like Emerson College, Northeastern University, University of Chicago, and Vanderbilt University will be in attendance. The Sunshine College Fair will also welcome international colleges and universities. As you plan for this event, please contact Mrs. Payner with any questions.