22 Oct

Mission Mayhem Recap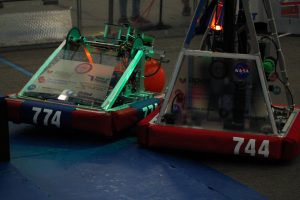 The high school robotics team, FRC Team 744 Shark Attack, competed on Saturday at Mission Mayhem at the Dillard High School.
This competition had some historic firsts for the team. For example, Shark Attack fielded two distinctly different robots for the first time. In fact, the second robot ran for the first time at 10:00 p.m. the night before the competition. The team has never attempted an effort quite like it. Moreover, Shark Attack had three drivers, a drive coach, and a drive technician for this competition. They even had a human player in new roles piloting the robots. In addition, our high school team enjoyed seeing the FIRST Lego League robotics team compete for the first time at Mission Mayhem. Shark Byte consists of fourth through sixth-grade students.
Both of our robots and drive teams were selected in the first round and competed in the quarter-finals! Their selection was a great feat for a team that invested so much time in the construction of a second robot, that little time remained to groom drivers and tune robots for competition. "It was a great learning experience in preparation for the regular competition season in 2020. Thanks to our great students, mentors, sponsors, and fans for making this weekend a reality," Mr. Kent Stolley, Robotics Instructor, said.
We now look forward to multiple robot demonstrations in the second quarter and the unveiling of this year's game on January 4, 2020. Currently, Shark Attack will participate in two regional competitions in 2020:
The Palmetto Regional at the Myrtle Beach Convention Center in Myrtle Beach, South Carolina from February 26–29
The Orlando Regional at the University of Central Florida, Orlando, Florida from March 11–14