03 Oct

Divers Lead The Way At Woodson Invitational

Posted at 5:49 PM on October 3, 2019,

in

Athletics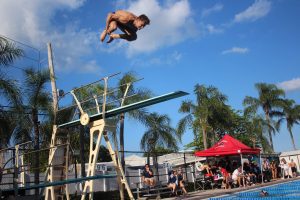 Our WA swimmers and divers had an outstanding performance at the 56th Annual Woodson Invitational meet at Pine Crest on Saturday, September 28. This meet is the longest-running high school invitational in the nation. Furthermore, it featured 15 of the top teams from all over the state of Florida. The divers led off the scoring for the Lions, starting with junior, All-American
Blake Shaw,
who was second overall in men's diving. The ladies also had outstanding performances from all four divers. In a crowded field of competitors,
Makenzie Blake
finished 7th,
Abigail Farra
r was 12th,
Ella Clements
was 16th, and
Zoey Tomczak
was 19th. On the swimming side,
Trent Shaw, Max Flores, Christian Clark, Tori Barbar,
and
Sydney Gordon
all recorded best times as they prepare for the postseason in two weeks.
Please come out and support your Aquatic Lions at the final home meet and senior recognition night on Friday, October 11, at 4:30 p.m. Go Lions Swimming and Diving!