10 Oct

Congratulations To Alumnus Michael A. Taylor '09

Posted at 3:56 PM on October 10, 2019,

in

Alumni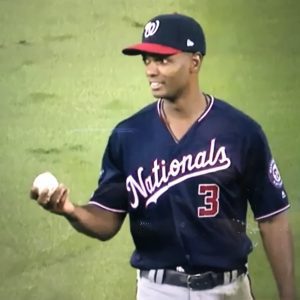 Congratulations to Michael A. Taylor '09 and his MLB team, the Washington Nationals, on their big win last night! The Washington Nationals defeated the Los Angeles Dodgers, 7–3, in 10 innings. It was Game 5 of the National League Division Series at Dodger Stadium. The final catch of the night came from Michael, diving down center field.
Michael was drafted by the Nationals ten years ago straight from Westminster Academy, and he has played with the team ever since. This year, Michael's diligence was a great example of our Portrait of a Graduate. Read more about his season and great attitude.
Washington now advances to the National League Championship Series to face the St. Louis Cardinals.