21 Oct

Calling All Young Entrepreneurs!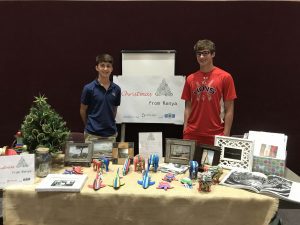 The Lions Parent Association 40th Annual Christmas Boutique & Craft Market will once again have a special section open to all WA students. However, this section has limited space and is almost to capacity this year!
Student entrepreneurs may purchase a 6″ table at a reduced cost of $25. Student vendors may promote their business, skills, crafts, or wares. Intended to encourage the entrepreneurial spirit, students must manage their booths. However, family and friends are welcome to assist and join in the fun. Due to our Bakery & Candy Shop, vendors may not sell baked goods or candies, nor any "Slime" products. Visit wa.edu/boutique to register, or for further information, contact Lori Murphy or Melissa Scasserra at christmasboutique@wa.edu.
The Christmas Boutique & Craft Market is Friday evening, November 15, from 5:00 to 9:00 p.m. and Saturday, November 16, from 9:00 a.m. to 4:00 p.m.in the Kennedy Fellowship Hall at Coral Ridge Presbyterian Church.