26 Sep

Fine Arts Concert Benefited Students

Posted at 11:34 AM on September 26, 2019,

in

Arts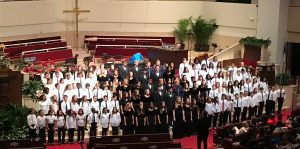 Thank you to all who were able to attend the Festival of the Fine Arts Benefit Concert on Tuesday, September 24. Students from fifth to twelfth grade awed the audience with the depth of their talents. With so many gifted students, the evening was one highlight after another. However one of them would have to be the lower and middle school students preview of Mary Poppins, announcing their upcoming Spring musical. In addition, the broadcasting students shared videos about Drama's trip to the Edinburgh Fringe Festival, as well as one with an overview of the Fine Arts department.
This showcase raised over $1,100! All proceeds will go towards Fine Arts travel expenses. We look forward to sharing more about our upcoming trips in the near future!