26 Aug

Christian College Fair—Monday, September 9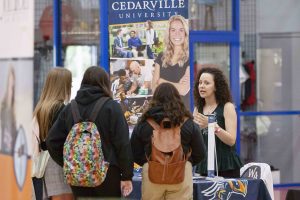 On Monday, September 9, Westminster Academy will host the Christian College Fair. This event will be in our gymnasium from 9:00 a.m. to 11:00 a.m., and we expect 38 schools in attendance. For example, colleges and universities like Gordon College, Samford University, Liberty University, and Wheaton College will take part.
We encourage students to take this opportunity to explore these schools and talk to their representatives. Mrs. Donna Payner, Director of College Planning, has a few good suggestions to prepare for this event. "Like in an interview, this is your opportunity to have questions answered that will help you make a good decision about your future. Be assertive and interact with the college representative. Look nice, cleanly shaven, and dress professionally in your school uniform. Avoid questions that could easily be answered by visiting the college website and instead ask questions about the college culture, whether they admit students by major, how easy it is to change majors, and about financial aid opportunities," she advised.
For a more extensive list of colleges represented, click here.