23 May

WA Students Soared Through Peter Pan, JR.!

Posted at 4:15 PM on May 23, 2019,

in

Arts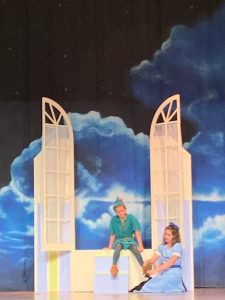 This year, Fine Arts added another production to their Spring schedule, but this time, it was our younger students taking the stage. Under the direction of Mrs. Patricia White, 96 lower and middle school students produced Disney's Peter Pan, JR. Four shows later, packed audiences raved over the talent of the young cast.
"The shows were phenomenal! I stand amazed at the talent and commitment of these young students. They devoted countless hours to the success of this show. Even the parents were committed—just the flying component required ten volunteers backstage," said Mrs. Lisa Wilson, Director of Fine Arts.
Furthermore, the faculty investment was impressive. The play revealed the director talents of Mrs. White, our Lower School Media Specialist, and Mrs. Sheila Pierce, our School Nurse, who handled the choreography. They were joined by Mrs. Lidia Blatz, our Lower School Music Teacher, who oversaw the musical direction, Mrs. Sonja Timmer, Middle School Art Teacher, who painted the set, and Mrs. Rachel Mesquita who helped decorate the set.
In addition, we appreciate the support of local businesses who sponsored the play. Thank you to the title sponsor, Journey Kids Dental, and support sponsors Butterfly World, John Knox Village, Boca Raton Bridal, and Rose Architects.