23 May

WA Student Completes Junior Achievement Career Bound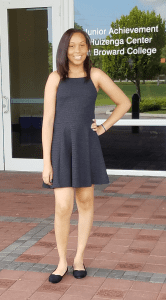 Junior Achievement of South Florida (JA) has served almost one million students since its inception in 1959. Training the next generation of business leaders, employees, and consumers, JA educates students about financial literacy, entrepreneurship, and work readiness. Specifically, their high school programs help students make informed and intelligent decisions about their future. By fostering skills that will be highly useful in their careers, JA prepares youth to succeed in a global economy.
In JA Career Bound, a cutting-edge workforce development program, high school students learn the soft skills they need to succeed in life and work and master the basic concepts of creating a business. JA Career Bound students spent the last eight months learning work readiness, ethics, and personal finance skills from Seminole Hard Rock Hotel & Casino executives. Students explored various careers in multiple industries, meeting with business professionals and company executives. The students met with their mentors monthly to develop an entrepreneurial mindset. Together, they have created exciting business plans to present to a panel of judges.
Congratulations to WA junior, Alyssa Allen, who is a recent graduate of JA Career Bound!