30 May

WA Drama Heading To Edinburgh, Scotland

Posted at 12:08 PM on May 30, 2019,

in

Arts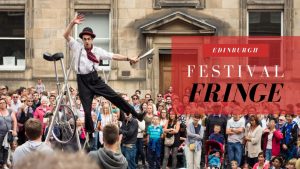 At the conclusion of the last school year, we announced that Westminster Academy's Drama Department, under the direction of Mrs. Rachel Cox, was selected to perform at the 2019 Edinburgh Fringe Festival. Now, after a year of planning, fundraising, and cast selection, the trip is just two months away!
Each August, the Edinburgh Fringe Festival turns Edinburgh, Scotland into the most magical and exciting place on earth. As part of the American High School Theatre Festival (AHSTF), it is the world's largest and most prestigious arts festival. AHSTF Board of Advisors identifies the top high schools based on their most recent bodies of work, awards, community involvement, philosophies, and recommendations. As a result, they recognized WA for its entertaining and innovative productions. WA will send 17 students to join performing artists from around the world. During a two-week span, our students will entertain young audiences with four performances. Additionally, they will get to enjoy over 3,000 different performances of music, theater, dance, and comedy offered throughout the city.
This international experience will be an unforgettable opportunity for our young artists. We are grateful for the contributions of those who helped make this trip a reality. The following sponsors showed their support of the WA Drama department this year: HYTECH247, LLC, The Cespedes Family, Moss Foundation, Albanese Group, LLC, The Amaturo Foundation, Inc., The Appleby Family, The Cochran Family, The Kreizinger Family, The Meacham Family, The Moss Family, and The Rocco Family.
If you would also like to support the Drama department, please contact Lisa Wilson, Director of Fine Arts, or visit wa.edu/drama.